National Superstock Championship RD3.
Jenny enjoyed a great weekend at round 3 of the National Superstock Championship at Silverstone, coming home in 23rd in race one on Saturday and 20th in race two on Sunday.
After the two free practice sessions on Friday Jenny entered the one and only qualifying session on Saturday with a positive outlook after getting down to good lap times.
Jenny managed to post a respectable time in qualifying and put herself in 30th place on the grid out of 37 riders but she was disappointed.
Jenny said….
There were a few yellow flags and track contamination/debris flags during qualifying that came in laps when I wanted to get the best from the tyre, nothing seemed to flow right and I just never got the clean lap I wanted, my time was ok but I really hoped to improve over my practice times so I was a little disappointed.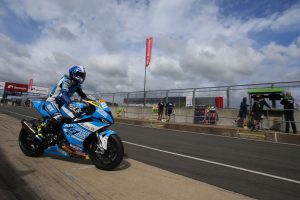 Jenny had two great races. Making a good start in race one Jenny came round on the first lap in 26th position having snuck by 4 riders and had a great battle all race, eventually coming home in 23rd position.
Sundays race was even better as Jenny once again got a good get away from 29th on the grid this time and came round in 27th place on the first lap, then 26th on the second lap and then up to 24th on lap 4 and eventually coming home in 20th place whilst trying to chase down another rider infront.
Jenny said…
I'm over the moon with my races, I was disapionted with qualifying but the races made up for that for sure. I feel like I'm really gelling with the bike now and I really enjoyed both races, its really good to get in a battle and have good fun out there with everyone, I super enjoyed it and I was so pleased with my second race especially, I fought as hard as I could and I was so pleased to get into the 55 sec lap times and have a better race pace too in the second race.
I'm really enjoying riding the bike and it was great fun around the short Silverstone National circuit even with the tyres shredding themselves on the right hand side, it just made it more fun sliding around and trying to manage the situation to try and maintain lap time, I really enjoyed it and I'm so grateful to the whole Ashcourt team for the weekend and to all my personal sponsors. Thank you.
Images courtesy of Bonnie Lane
.